null
null
Looking at Switzerland in Lockdown
08.04.2020 | COVID-19 | Documenting and making visible
Looking at Switzerland in Lockdown
The streets and squares throughout the country are deserted, shops and restaurants are closed, the border crossings barricaded. People keep their distance from each other, some wear protective masks, those who have to work wear protective suits. Spring is coming, the temptation to go outside is getting stronger and stronger, but the appeal is for everyone to "Stay at Home". Please.
---

Since the lockdown, the Keystone-SDA photojournalists have also been doing extraordinary work, documenting the Corona crisis throughout the country. The pictures can be seen here together with their personal thoughts on the subject.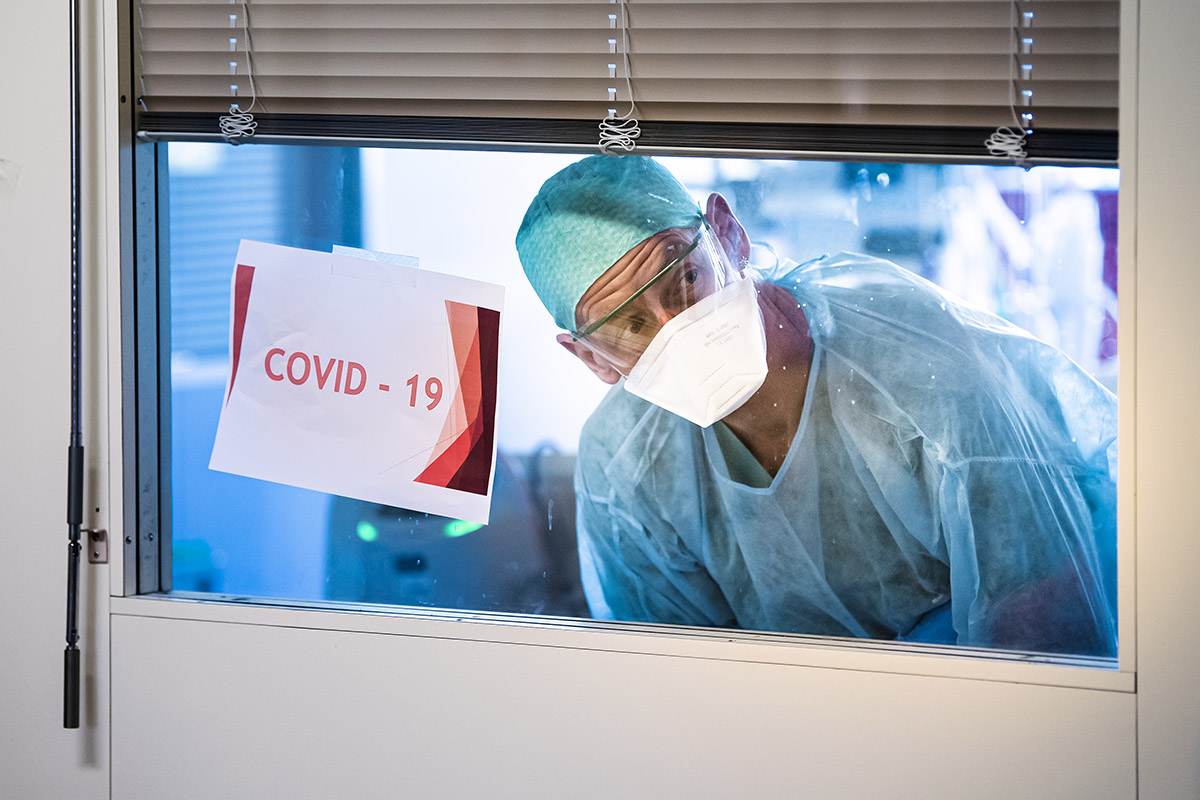 413104598 - Keystone-SDA/Jean-Christophe Bott - Medical personnel at work in the intensive care unit of the hospital in Sion, April 1, 2020.
Jean-Christophe Bott
« Even if this time is a cause for concern, as a photographer I have to be there to tell the story of the coronavirus crisis. I am looking forward to afterwards, to a more cheerful social life. »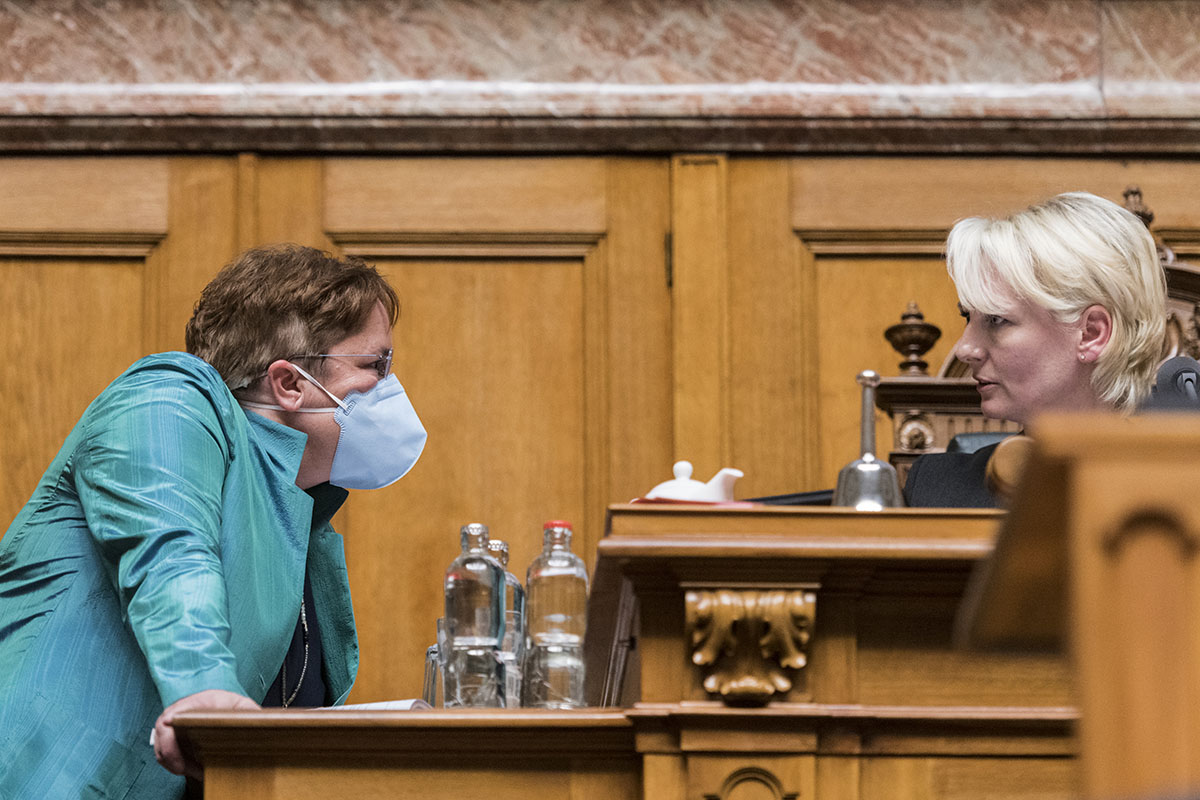 410280097 – Keystone-SDA/Alessandro della Valle - Magdalena Martullo-Blocher, SVP-GR, left, wearing a breathing mask, talks on 2 March 2020 with the President of the Council Isabelle Moret, FDP-VD, on the first day of the spring session of the Federal Assembly in Bern.
Alessandro della Valle
« From a distance I saw Mrs. Martullo appear, wearing a mask. She was the only one wearing one in the hall. The council members around her were as astonished as I was. The conversation with the President of the Council looked tense, the mask was impressive in its size.»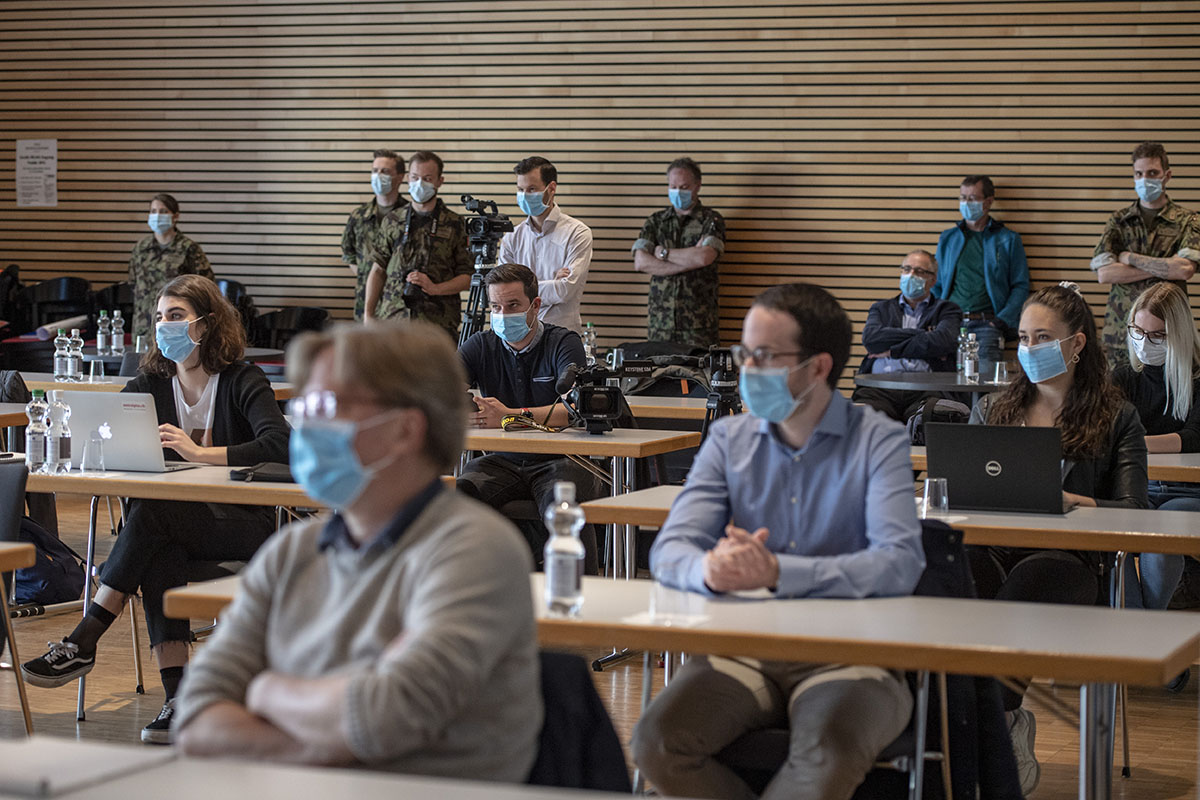 413445823 – Keystone-SDA/Urs Flüeler - Media conference with mandatory breathing mask on 6 April 2020 on the occasion of a guided tour of the new Medical Centre Lucerne on the premises of the Swiss Paraplegic Centre in Nottwil.
Urs Flüeler
« Respiratory masks were distributed as soon as we entered the building, and we had to adhere strictly to the rules of conduct. Taking pictures with a mask proved to be a challenge, as it was unusually warm under the mask and my glasses fogged up. Everything is a bit unusual these days. »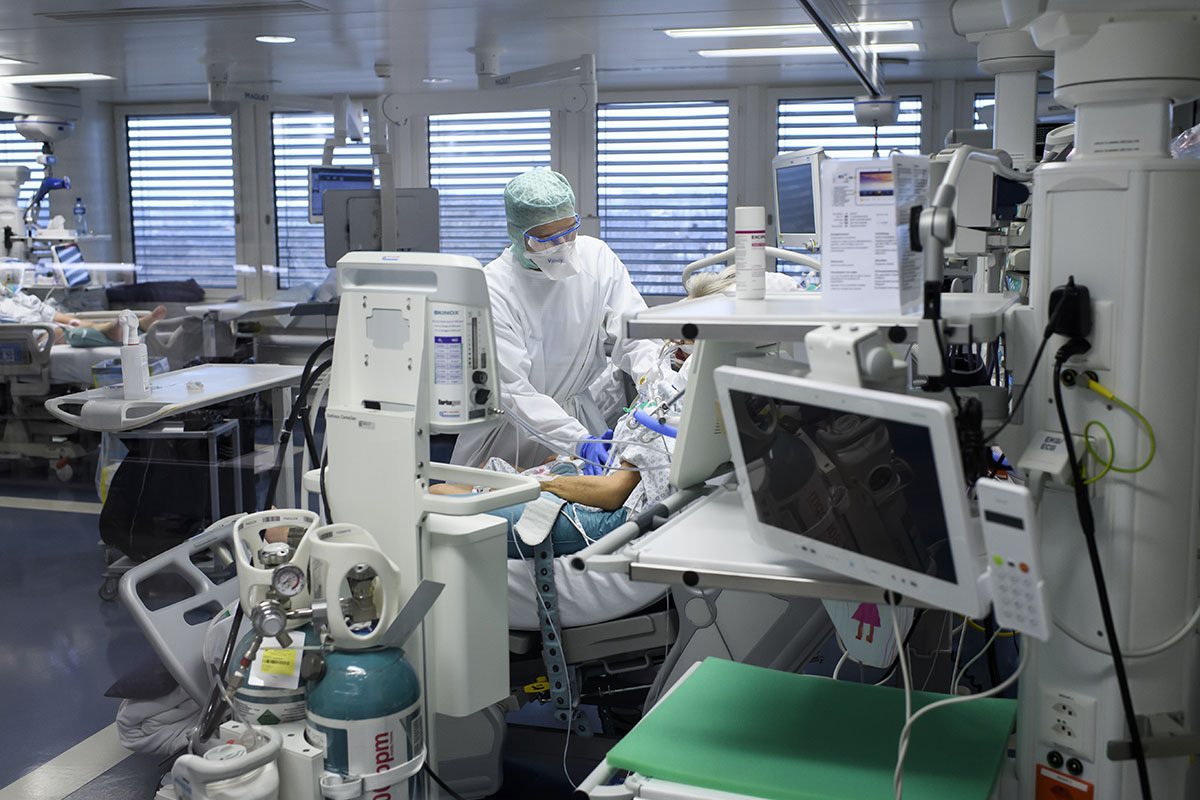 412937313 - Keystone-SDA/Anthony Anex - Medical staff at work in the intensive care unit of the HFR Cantonal Hospital Freiburg, 30 March 2020.
Anthony Anex
« It was only when I was able to enter the intensive care unit of the HFR Cantonal Hospital in Freiburg that I realized the extent of the pandemic. A young man my age was in a coma. Machines with tubes down his throat kept him alive. I hope with all my heart that he'll recover. »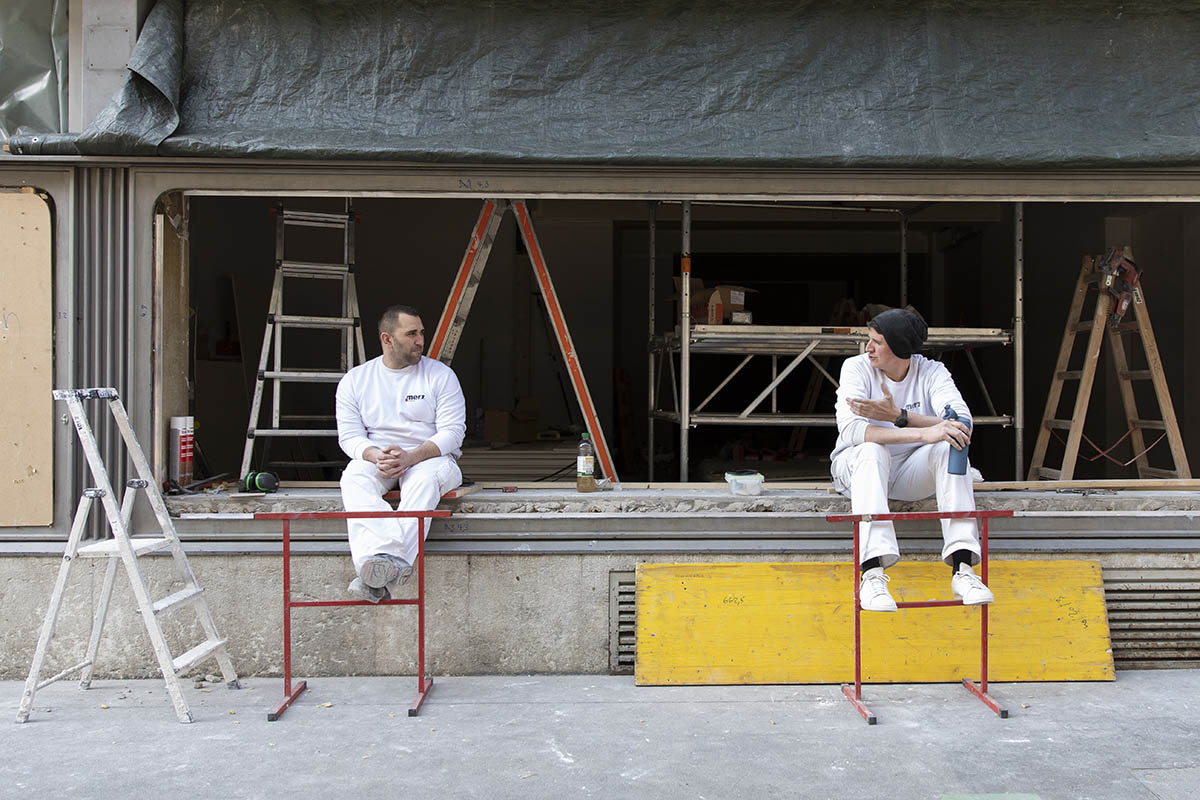 412105438- Keystone-SDA/Peter Klaunzer - Two plasterers are keeping their distance during the lunch break at a construction site in Bern, 20 March 2020.
Peter Klaunzer
« During my lunch break I met these two plasterers during their lunch break. I met them again a week later and they were very happy because they had discovered the picture in a newspaper. »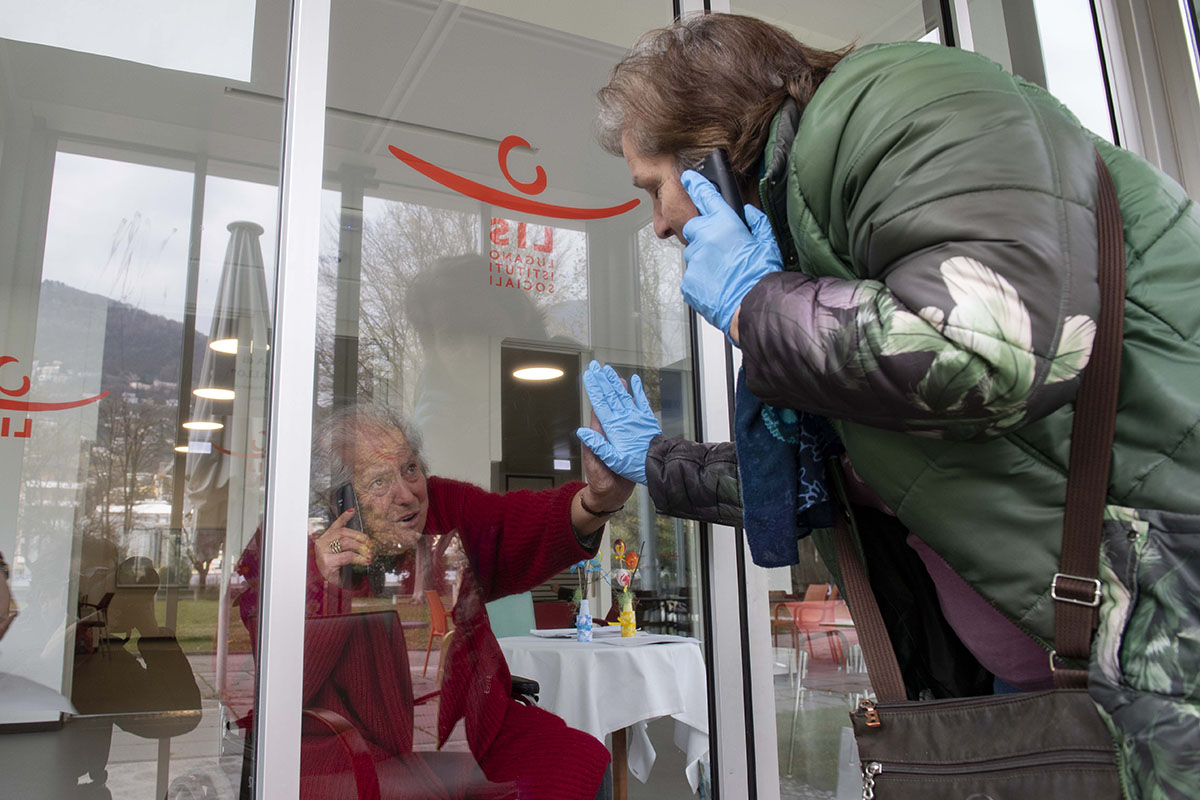 413152222 – Keystone-SDA/Ti-Press/Davide Agosta - On April 1, 2020 Monica talks through a pane of glass to her 88-year-old mother Giuseppina, who lives in the Serena nursing home in Lugano. Due to the corona virus, direct contact is avoided.
Davide Agosta
« During these months we are confronted with situations that we have never experienced before. Situations from everyday life are completely out of control, even mourning. It is also striking how simple human gestures have become an intimate affair. »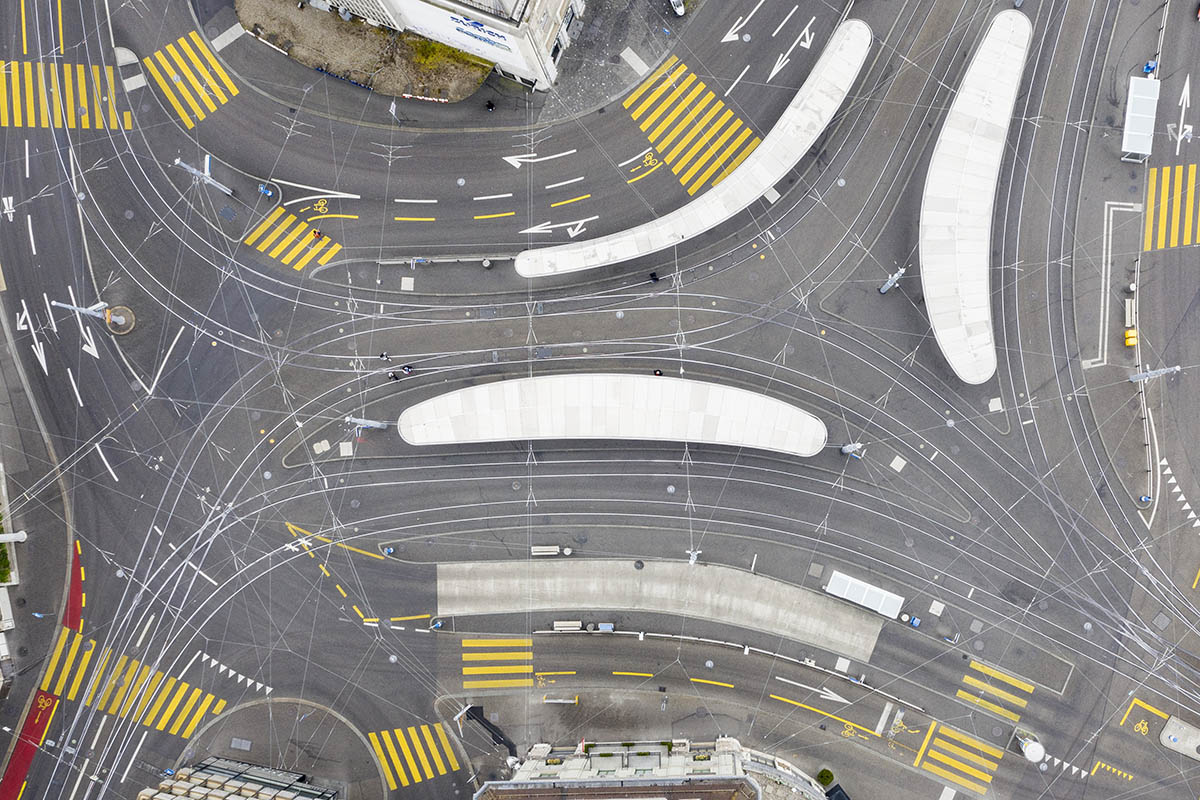 412844008 – Keystone-SDA/Ennio Leanza - Aerial view with a drone on the deserted tram and bus station "Central" in Zurich. A square that is normally bustling with hectic commuter traffic, the place is deserted on the morning of 29 March, 2020.
Ennio Leanza
« My work and my everyday life has not really changed. It is exciting to experience the emptiness of an otherwise busy city like Zurich, to talk to people you usually only greet and to feel the solidarity in the immediate surroundings. »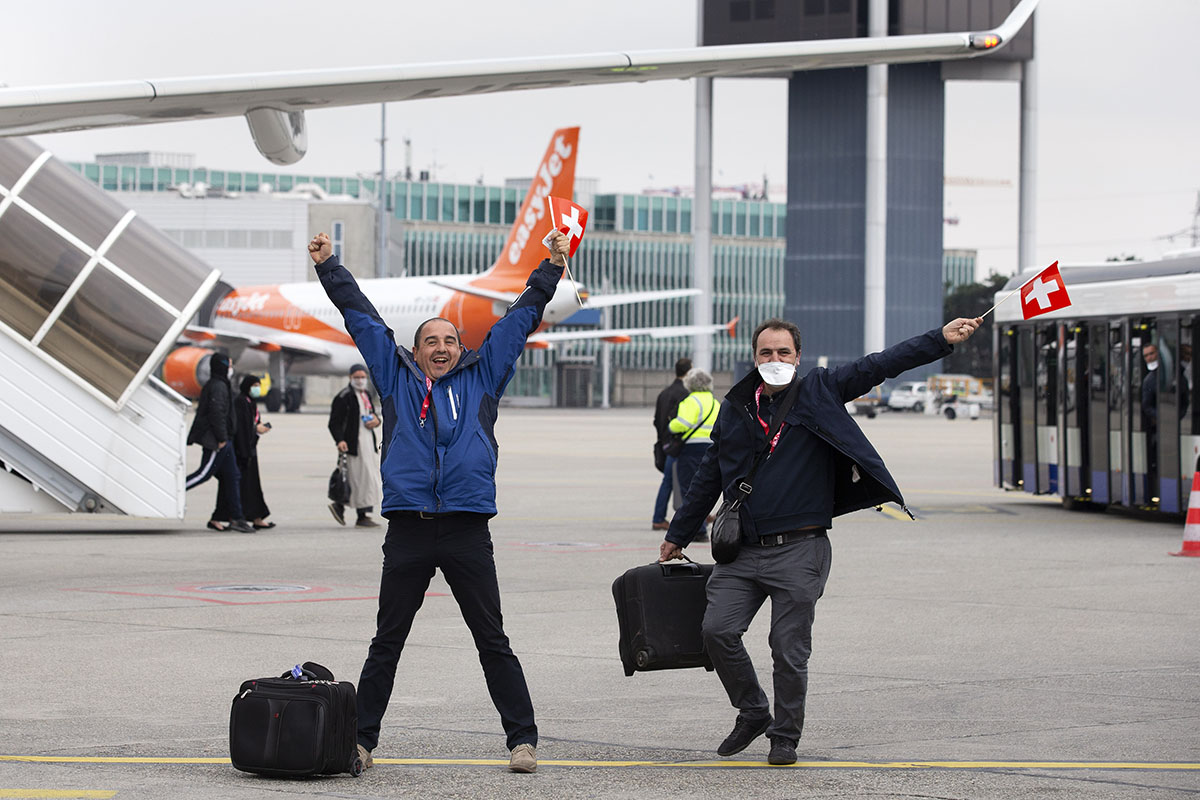 412848003 – Keystone-SDA/Salvatore Di Nolfi - Having been repatriated from Algiers together with other Swiss nationals, two passengers express their joy at the Geneva-Cointrin airport, 29 March 2020.
Salvatore di Nolfi
« Basically my work hasn't changed, I still take pictures for the agency Keystone-ATS. The circumstances have changed due to COVID-19. It has become more complex and sometimes the doors close before my lens. »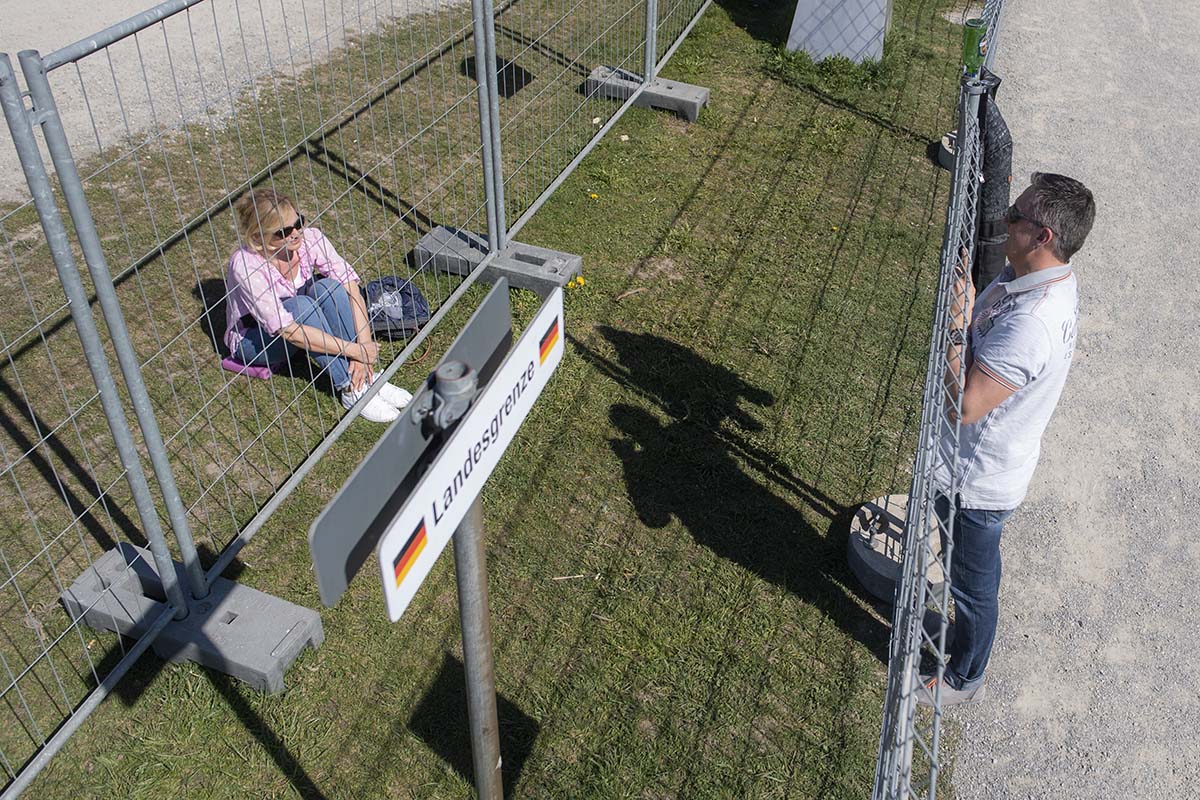 413389583 – Keystone-SDA/Gian Ehrenzeller - A couple meets on April 5, 2020, at the border between the German town of Konstanz and Kreuzlingen in Switzerland, separated by a fence that sets the distance.
Gian Ehrenzeller
« For me as a photographer, the Corona crisis is to a certain extent invisible; it is characterized by not taking place and staying away while health care workers work behind closed doors. Not so in Kreuzlingen: The virus makes the forgotten border visible. After a first fence, there is now a second one, which makes it impossible for this couple to touch. Following the dictates of the hour, there is no way for the two to get in touch. »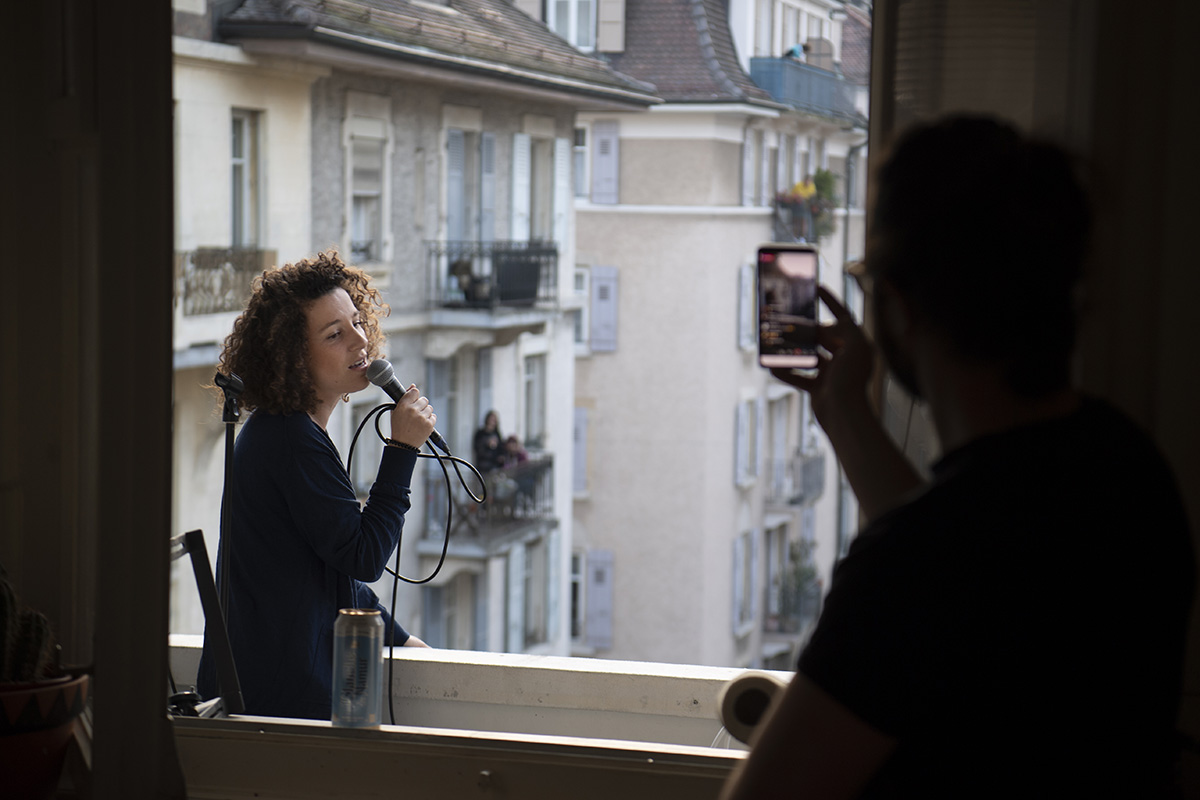 412817043 – Keystone-SDA/Laurent Gilliéron - Swiss singer and semifinalist of French TV reality show «The Voice» in 2016, Amandine (Rapin) performs a short concert on her balcony in Lausanne, March 28, 2020.
Laurent Gilliéron
« During a radio interview, Amandine announced that she would sing for her neighbours from her balcony. I immediately contacted her via Facebook, I really wanted to photograph the mini-concert. Amandine gave me all the details and so I was down on the street in front of her balcony at the agreed time. But from down there I couldn't get a usable picture. She allowed me to come into her apartment during her performance and to photograph the event from her perspective. It is these moments, brief encounters and unforgettable memories that brighten up the work during the corona crisis ... until the arrival of the police, who put an end to this joyful improvised house concert. »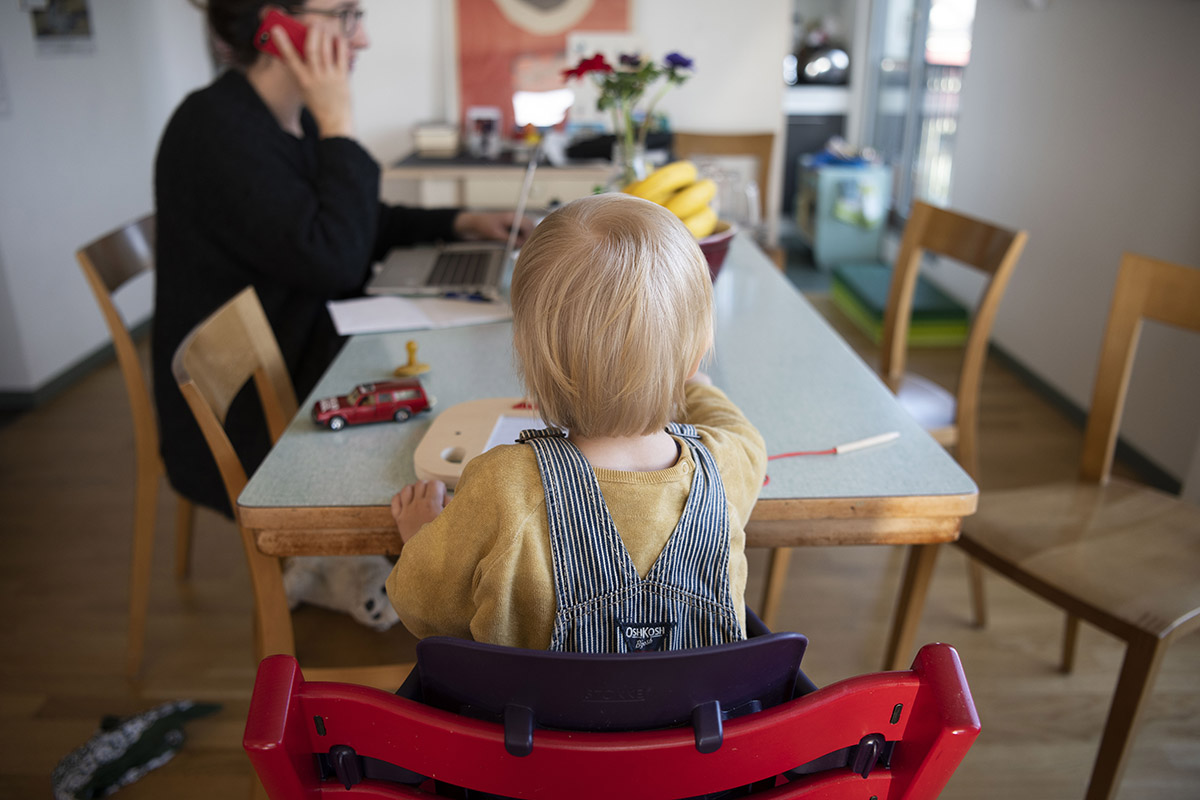 411605853 - Keystone-SDA/Christian Beutler - A mother working from her home office with her child. Because of the coronavirus pandemic, the Federal Council has massively restricted public life. People are encouraged to work from home if possible. Zurich,15 March 2020.
Christian Beutler
« The general insecurity is very noticeable. We photographers are used to approaching people and topics. I experience the present time as very distant. You always have to be careful to maintain the necessary distance. Everyday life - whether at work or in your private life - has to be reorganized. »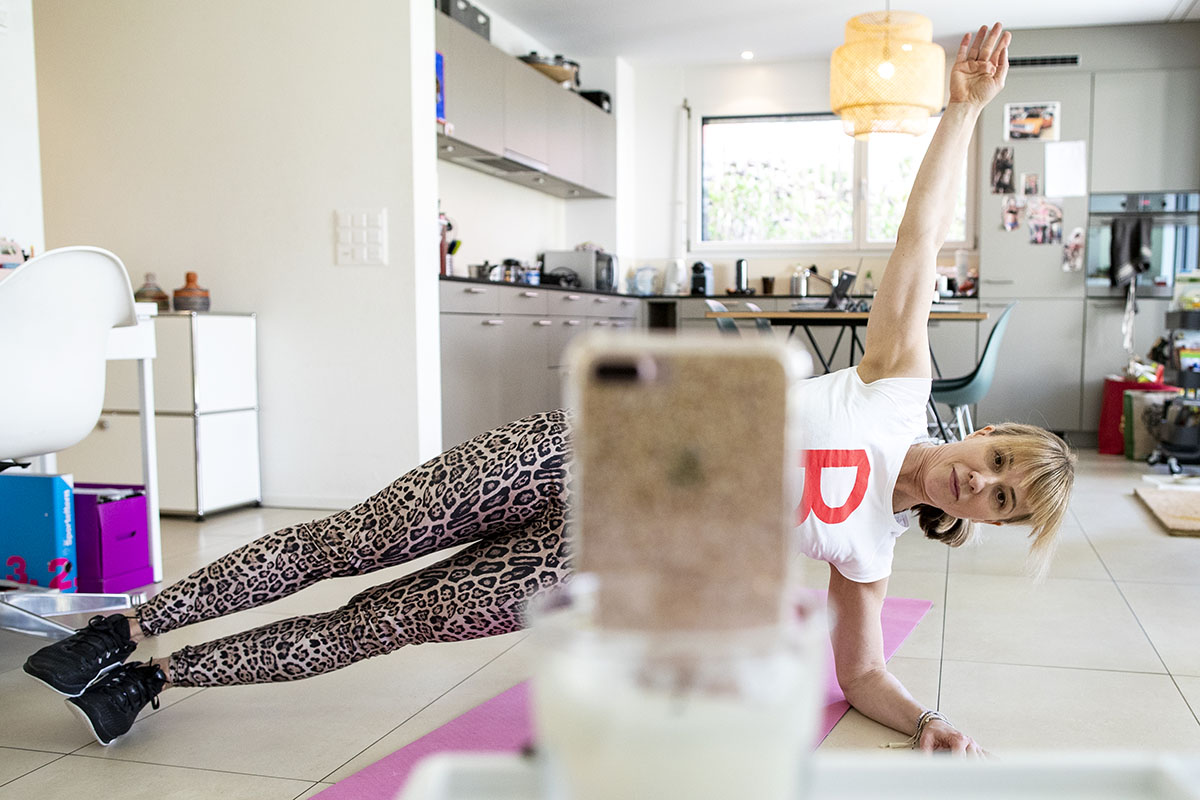 412293183 – Keystone-SDA/Alexandra Wey - Sandy Hager is a personal trainer and works from her home office in Zurich on 23 March 2020. The personal training takes place whenever someone wants to exercise - currently her clients are connecting live for their workout from home.
Alexandra Wey
« A colleague at work put me in touch with Sandy. Sandy was thrilled that I wanted to photograph her and let me take pictures and film during one whole workout. I liked her positive charisma. Again and again she talked to the trainees, motivated them and answered their many comments. I would have loved to participate myself. »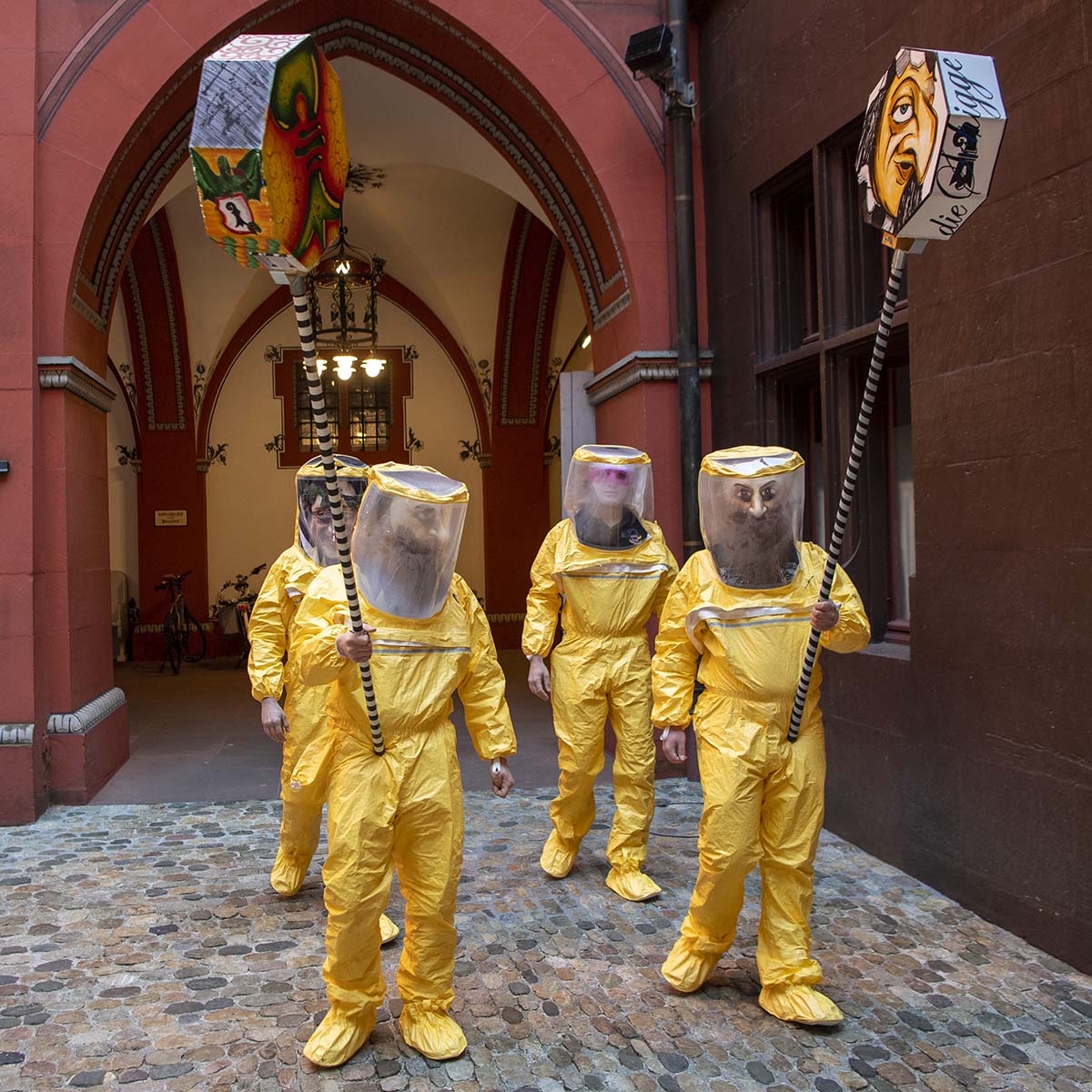 409886003 – Keystone-SDA/Georgios Kefalas - « Fasnächtler » protest on 28 February 2020 in protective suits with their lanterns in the courtyard of the city hall in Basel. Shortly before, the government council had cancelled all events in connection with the Basel carnival.


Georgios Kefalas
« For me, this picture is the first visualization of the consequences of the measures against the coronavirus in Switzerland. Since then, we have been seeing scenes every day that we only know from disaster movies: Empty squares, closed shops and restaurants, barricaded border crossings, army operations, people wearing protective masks. As a photographer, I want to document this historical moment and I have to get out, but as a family man, sometimes I don't feel comfortable at all. »

See more pictures here
---